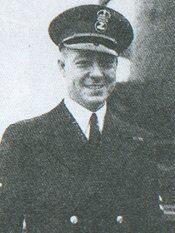 Lieutenant Commander Thomas William ("Tommy" ) Gould, VC, RNVR (1914-2001) was an English officer of the Royal Navy who was awarded the Victoria Cross while serving in the Second World War.
He was born on 14 December 1914, in Dover, Kent, the son of Robert (Reuben) and Christina Eleanor Gould (née Irons). His father died during the First World War while serving with the 1st Queen's Own (Royal West Kent Regiment) on the Western Front.[1] His mother subsequently remarried, to Henry E Cheeseman, a petty officer in the Royal Navy.
Joining the Royal Navy in 1933 as a seaman, Gould saw service aboard the light cruisers Emerald and Colombo.[2] He transferred to submarines in 1937 and was assigned to HM submarines Regent, Pandora, and Regulus.[1]
In 1942, Gould, then a Second Coxswain, and crewmate Lieutenant Peter Roberts were awarded the Victoria Cross for gallantry in February aboard the submarine Thrasher, then operating in the Mediterranean. Thrasher had been attacked by aircraft and warships after sinking a heavily-protected German supply ship off Suda Bay. Only after surfacing at night to recharge, when unusual noises were heard, did it transpire that there was an unexploded 100 lb bomb rolling around in the gun-casing, at the front of the boat's four-inch gun mounting.[1][2]
Gould and Roberts volunteered to dislodge the bomb, which was removed by wrapping it in a potato sack, tying it with rope, and heaving it overboard.[2] The pair, however, found a second bomb, which rested on the pressure hull, more challenging to dispose of. For about 40 minutes, in pitch blackness and with the possibility that Thrasher might dive if attacked, Roberts laboriously dragged Gould, who had the bomb placed on his stomach, through the confined space of the casing. They eventually passed the bomb to a sub-lieutenant at the forecasing, whereupon it was wrapped up and cautiously lowered over the side with rope.[1][2][3]
Their citation in the London Gazette, 5 June 1942, read as follows:
"On February 16th, in daylight, H.M. Submarine Thrasher attacked and sank a heavily escorted supply ship. She was at once attacked by depth-charges and was bombed by aircraft.
The presence of two unexploded bombs in the gun-casing was discovered when after dark the submarine surfaced and began to roll.
Lieutenant Roberts and Petty Officer Gould volunteered to remove the bombs, which were of a type unknown to them. The danger in dealing with the second bomb was very great. To reach it they had to go through the casing, which was so low that they had to lie at full length to move in it. Through this narrow space, in complete darkness, they pushed and dragged the bomb for a distance of some 20 feet until it could be lowered over the side. Every time the bomb was moved there was a loud twanging noise as of a broken spring which added nothing to their peace of mind.
This deed was the more gallant as H.M.S. Thrasher's presence was known to the enemy; she was close to the enemy coast, and in waters where his patrols were known to be active day and night. There was a very great chance, and they knew it, that the submarine might have to crash-dive while they were in the casing. Had this happened they must have been drowned."[4]
He returned to Britain in January 1943, being made an Honorary Freeman of Dover. Later in the year, Gould would be mentioned in dispatches after his new boat, the Truculent, torpedoed and sank the German submarine U-308 off the Faeroe Islands, on 4 June.[1] After the war, Gould went onto be a founding member of the 43 Group, an anti-fascist organisation of Jewish ex-servicemen,[5] and was an active participant in the Association of Ex-Jewish Servicemen (AJEX). In 1946, he took part in a march by the Zionist Federation of Great Britain and Ireland, protesting British Government policy that opposed an independent Israel and the emigration ("Aliyah") of Jewish refugees.[2] His interest in the navy was maintained through involvement with the Bromley Sea Cadet Corps and by being appointed President of the International Submarine Association of Great Britain.[1]
Gould contended with some difficulty in the 1960s, resigning from his job as Chief Personnel Manager of Great Universal Stores, due to a "conflict of personality". He would lament his VC as a possible impediment, remarking "...If it is the VC which is frightening people away from me, I wish they would forget it. Those days are over."[1][2][6] Gould auctioned his Victoria Cross via Sotheby's in 1987, to support himself in old age - a decision which the Times reported as having "depressed" him.[7][8] The buyer, the Association of Jewish-Ex-Servicemen, acquired it for £48,400 pounds, about double the initial estimate.[9]
Gould married in 1941 to Phyllis Eldridge, with whom he had one son, Keith, and died on 6 December 2001. His half-brother, Telegraphist Bernard George Cheeseman, died in 1943, when the submarine P311 was lost in the Mediterranean.
Notes
[
]
↑ 1.0 1.1 1.2 1.3 1.4 1.5 1.6 Tommy Gould VC, 7 December 2001, telegraph.co.uk. Retrieved 14 October 2012.
↑ 2.0 2.1 2.2 2.3 2.4 2.5 The Times. "Lieutenant-Commander Tommy Gould, VC - Obituary". 7 December 2012.
↑ Arthur, Max (2001), "The Independent". Obituary: Tommy Gould VC. 7 December 2012.
↑ "The London Gazette (35591", p. 2. 5 June 1942. Retrieved 14 October 2012.
↑ Last reunion for war heroes who came home to fight the fascists, 22 February 2009, independent.co.uk. Retrieved 14 October 2012.
↑

The Times (56316), Col G, p. 6. "V.C. Holder Cannot Find A Job". 8 May 1965.

↑ The Times, "Sale room: Submarine's VC hero goes into hiding". 18 September 1987.
↑ "Associated Press". Victoria Cross Won By Jewish Serviceman Sold For $77,000, 30 October 1987, apnewsarchive.com. Retrieved 14 October 2012.
↑ The Financial Times. Arts: Good Homes For VCs - Saleroom Report. 30 October 1987.