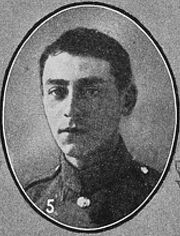 Private Samuel Hyman was an English soldier of the British Army who died during the First World War.
He was born in Whitechapel, the son of Polish parents Harris, a baker by profession, and Yetta Hyman. At the time of the 1911 census, the Hyman family were residing at 31 Coventry Street.
Hyman died on 3 September 1918, during the Allied Hundred Days Offensive, while serving with the 9th (Service) Battalion, The East Surrey Regiment on the Western Front.
He is buried in Loos British Cemetery.
References
[
]
Ancestry.co.uk.
Hyman, Samuel, cwgc.org. Retrieved 16 February 2013.