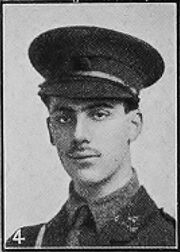 Second Lieutenant Louis Arthur Klemantaski was an English officer of the British Army who died during the First World War.
He was born on 12 August 1891, in Hackney, the eldest son of Dutch-born Sigismund Marcus and Lizzie Klemantaski (née Phillips), of London. Klemantaski studied at University College, and by the age of 18 was editing a musical quarterly titled 'Euterpe'. He represented England at the Ghent Musical Conference in 1913. A keen poet, he was also librarian to the Quill Club.[1] At the time of the 1911 census, Klemantaski was working as a clerk for the Indian Office while living with his family at 2 Tanza Road. Before enlisting, he was compiling a musical dictionary in collaboration with a De Trennent, as well as a modern dictionary of 'all the quaint words of all countries'.[1]
Klemantaski joined up in September 1914, in the Surrey Regiment, and was commissioned the following month, on the 16th, in the Royal Berkshires. He was dispatched to the Western Front in October 1915 with the regiment's 8th Battalion, and was killed while engaged on a wiring raid near Bully on 27 May 1916.[1] He was mentioned in despatches and had married, in 1915, to Phyllis A. Powell.
He is buried in Bully-Grenay Communal Cemetery, British Extension.
References
Edit
Community content is available under
CC-BY-SA
unless otherwise noted.