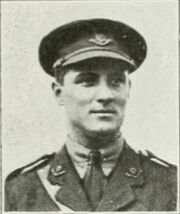 Lieutenant Juan Manuel Aldana was a British officer of the British Army who died during the First World War.
He was born in 1895, at Fulham, the son of Colombian Abelardo, a foreign consul for a number of Latin countries at Cardiff, and Eliza Aldana (née Halladay), of Southampton. Aldana received his formative education at Llandaff Cathedral School and Worcester King's School before going on to Keble College, Oxford. After the outbreak of war in 1914, Aldana volunteered for the British Army and was commissioned into the Worcestershire Regiment as a temporary second lieutenant.[1]
Aldana died on 21 April 1917, during the Arras Offensive, while in command of a company of the 4th Worcesters. He had arrived on the Western Front the previous July and had been wounded in October, during the Somme Offensive.
He is buried in Feuchy Chapel British Cemetery, Wancourt.
Notes
[
]
↑ The Roll of Honour. A Biographical Record of All Members of His Majesty's Naval and Military Forces Who Have Fallen in the War, Vol 3, p. 3.
References
[
]