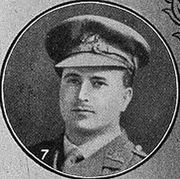 Second Lieutenant Joshua Cansino was an officer of the British Army who died during the First World War.
He was born in 1890, in Casablanca, Morocco, the son of Sephardi parents Hayyim and Simita (Minnie) Cansino (née Belisha). Cansino attended Cheetham Higher Grade School and was a graduate of Manchester University. Before enlisting, he had been continuing his studies, in applied chemistry, and had taught in Berlin and Paris.[1][2] While living in France, Cansino married Simha Beryl Johnston, of Worthing, in April 1914.[3] Cansino enlisted in September as a private, joining the Royal Sussex Regiment. He reached the rank of serjeant before obtaining a commission in November 1915, in the 26th Manchesters.[2]
Cansino went to the Western Front with his regiment's 22nd Battalion in March 1916. He died on 2 June while commanding a party covering a raid on a German trench on Bulgar Point, south-east of Mametz. A fellow officer, Captain Alfred Bland, reported that Cansino had been killed while attempting to recover Second Lieutenant Edgar Street. The raiders had bombed five dugouts, killed 15 soldiers, and secured two prisoners of the 23rd Silesian Regiment for the loss of three officers and six men unaccounted for.[1]
He has no known grave and is commemorated by the Thiepval Memorial.
Notes
[
]
↑ Genealogia hebraica: Beniso-Fresco, p. 526.
References
[
]