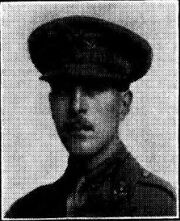 Second Lieutenant Frederick Wilfred Haeffner was an English officer of the British Army who died during the First World War.
He was born on 20 June 1890, in Hampstead, the only son of German-born general merchant Frederick and Evelyn Elizabeth Haeffner (née Cappel), of London. His education took him to Locker's Park, Charterhouse, and New College, Oxford. He had enlisted in the Territorial Force in 1912, as an other rank in the Artists Rifles. After the outbreak of war, in 1914, Haeffner volunteered for overseas service and, in July 1915, secured a commission in the Royal Field Artillery.[1]
Haeffner, who arrived on the Western Front in January 1916, was killed on 9 July, during the Somme Offensive, while serving with the 151st Brigade, RFA.
He is buried in Cerisy-Gailly Military Cemetery.
Notes
[
]
↑ De Ruvigny's Roll of Honour, 1914-1924, p. 151.
References
[
]